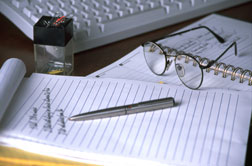 The responsibility to take minutes of meetings of the association or its board is typically that of the secretary. Specific responsibilities of directors serving on an association's board are most often stated in the by-laws of the association.
There are more than 320,000 community associations (HOA's) in the United States, according to the Community Associations  Institute. Think of all the membership, board, and committee meetings that take place! Since statutes and governing documents often require such meetings to follow certain rules, it's important for...
Read more
Just the mention of meeting minutes can make eyes roll and faces grimace.  But it doesn't need to be that way.  If you learn a few simple steps, you'll be able to produce professional minutes in less time and with a lot less frustration.
Read more